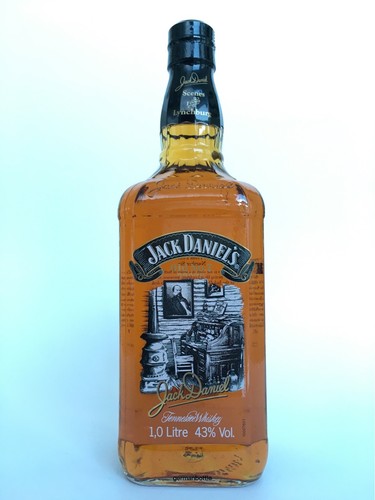 [+] Click for Bigger Image
Jack daniels daniel's scenes from Lynchburg No. 6 full 1L Heritage bottle
(€699.99)
Located in Bochum (44801)
Go To Store!
---
JACK DANIELS
Lynchburg No. 6
1 Liter
Sie bieten auf die abgebildete JACK DANIELS Lynchburg No. 6 Flasche.
Flasche ist voll & versiegelt !
Produkt Details:
Alkoholgehalt: 43 % Vol.

Nettoinhalt: 1 Liter

Lebensmittelart: Whiskey
Herkunftsland: USA
Hersteller / Importeur: JACK DANIEL DISTILLERY LEM METLOW, PROPRIETOR LYNCHBURG, TENNESSEE, USA
JACK DANIELS
Lynchburg No. 6
1 Litre
You are bidding on the pictured JACK DANIELS Lynchburg No. 6 bottle.
Bottle is full & sealed !
! ! ! Please look at my other limited editions ! ! !
If you buy more than 1 item and want to combine shippping, so please dont pay! Wait on my invoice with all items to pay 1 x for shipping. Please don´t use the Shopping cart or the basket. Shipping fees are calculated according the weight.
Abgabe nur an Personen ab 18 Jahren!  (The legal age in germany for this products is 18!)
Mit dem Kauf dieses Artikels bestätigen Sie Ihre Volljährigkeit (By purchasing this item, you confirm the legal age of your country).
Withdrawal, Restitution or revocation of the purchase contract outside the European Union are not possible.